Three to four in the afternoon is my favorite time of day here in Kabul. The lazy light of the sun shines on the hills and mountains and brings the small features and crags into relief. The long shadows add depth and contrast to street life, coloring the already colorful people and places with ink blots slashing over the golden rays.
I always dream of walking up the narrow streets and steep stairways that lead up to the tiny homes that crowd the hills rising up throughout Kabul city.
When I was here last month I spoke about how Kabul reminds me of Rio – one reason being these informal developments constructed by mostly poor workers who don't have the money to buy real estate in the city proper. In Rio they are favelas, but I haven't found a name for them here in Kabul. They are just the homes in the mountains.
Well, this weekend I had my chance to climb the stairway up into the mountain homes and visit a local neighborhood. The caretaker and chef of the BBC guest house – Zabi – lives in one of these homes and on Friday, Jumm'e, I payed a visit to his family.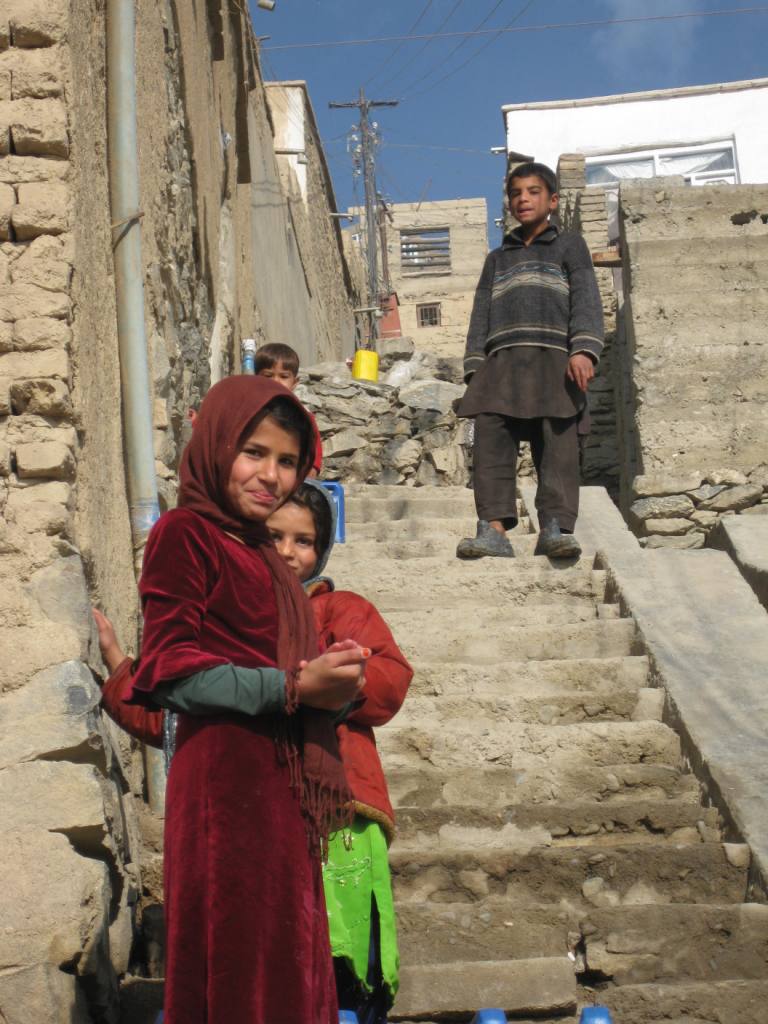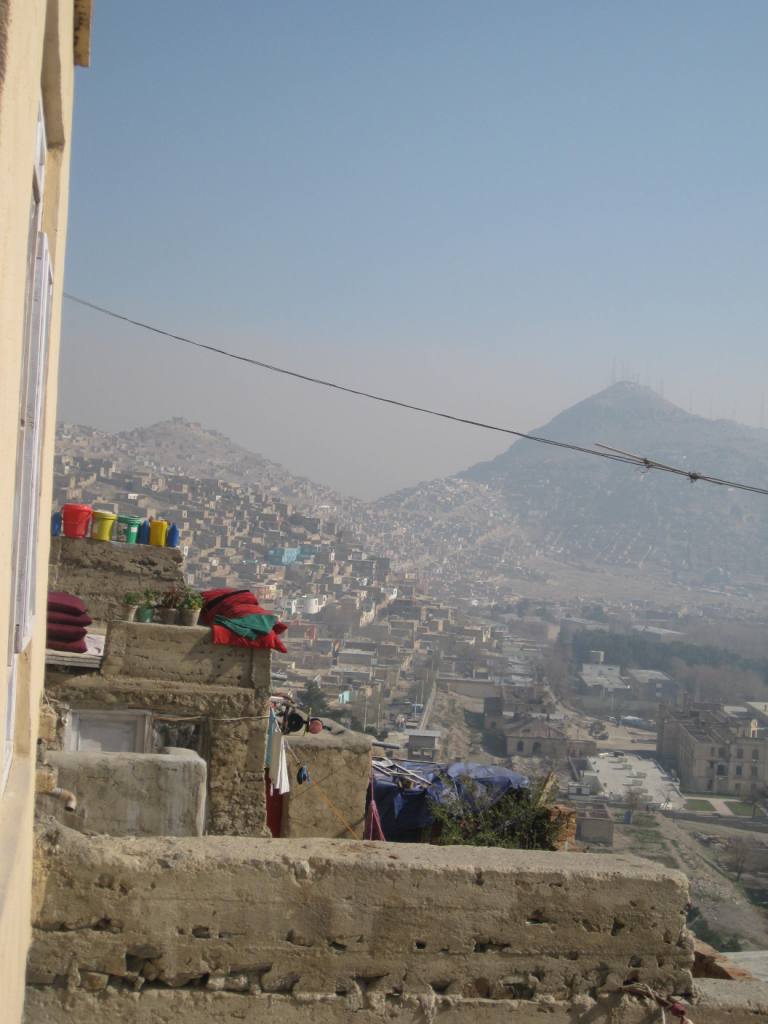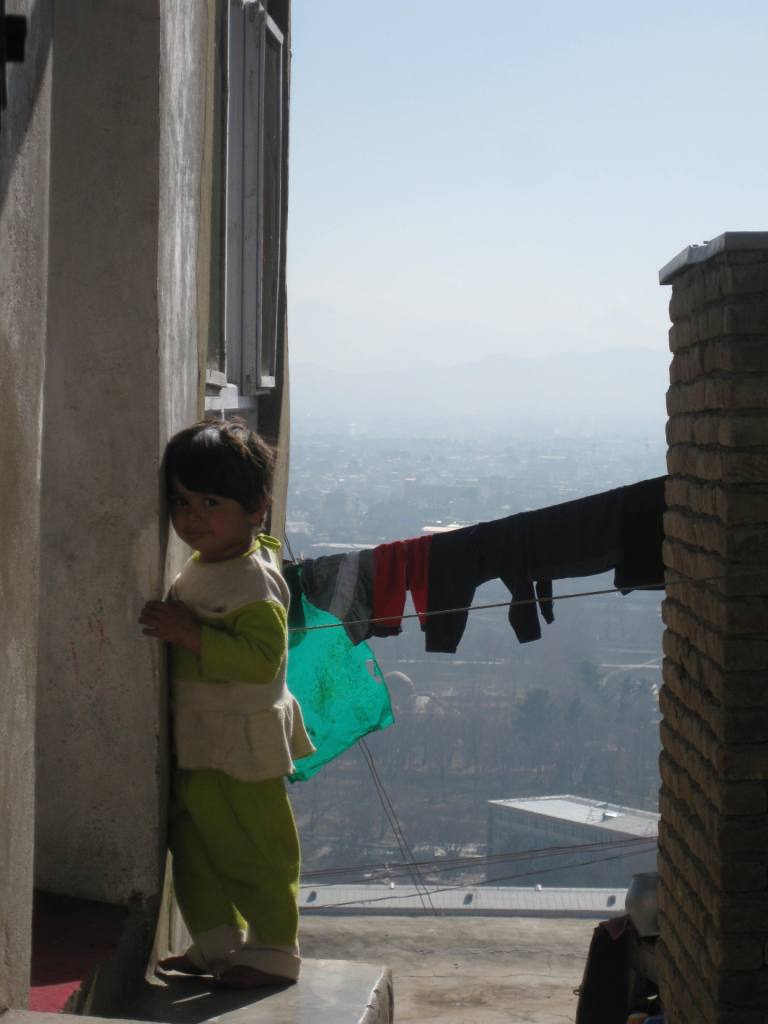 We started at the bottom of the stairs where we met some local children lugging water up to their homes. Since these are technically illegal developments, there is no infrastructure for plumbing, sewage, and electricity. Families must carry water to their homes. And, like in most working class neighborhoods, the children greet you first and want to know all your business.

The little girl hiding behind the first girl in this photo promptly ran up the stairs and shouted over the wall to her father that some people got out of a car and are coming up the stairs! As we walked up, Nouria, Zabi's aunt told the children I was a guest from Iran! That seemed to make them happy as they followed closely behind us.
Families live very close together and on top of each other. Homes are carved into and on to the rock of the mountain. The views are lovely and the down home, neighborhood feeling is charming, and though their lives are very tough, everyone is generous, kind, and welcoming.

Being a woman, I was invited into many homes and got to meet all the women of the family. I saw women cooking bread, washing clothes, caring for babies, cleaning the house, etc.

All of the homes were immaculate, simple, warm, and cozy. I was amazed at how comfortable and clean everything was. I know these women work hard – you could see it on their faces and hear it in their talk.

I met Zabi's wife Zamira and his 4 lovely, lively daughters Jamila (7), Sowmia (4.5), Basia (1.5), and Marwa (2 mos). We took photos, talked, laughed, teased Zabi, and then took a little walk around the neighborhood.
During my walk around the neighborhood, I met their friends and relatives – distant and close. Almost everyone asked me to come inside for tea but aunt Nouria only took a few people up on the offer. I guess she knew who would take offense or who was a close family member. Zabi's cousin ran the local corner store which was a lean-to with a tin roof. As anywhere, all the young men and boys hung around the store!

We then met a very special resident – a 100 year old man! Life expectancy in Afghanistan is in the 50s so this is a very special honor. He was full of life and was sharp and engaged.

Finally, the day came to an end. I was so honored to be able to share this small bit of time with Zabi, his family and neighbors. It reminded me again of the goodness of all people and the strength of the spirit to make beauty and share love wherever it can.